In this training, you will learn how to set up delivery and use the delivery app on your mobile device.

First, you must ensure that delivery has been enabled for your eCommerce site.

To enable delivery:

Settings >> Delivery Settings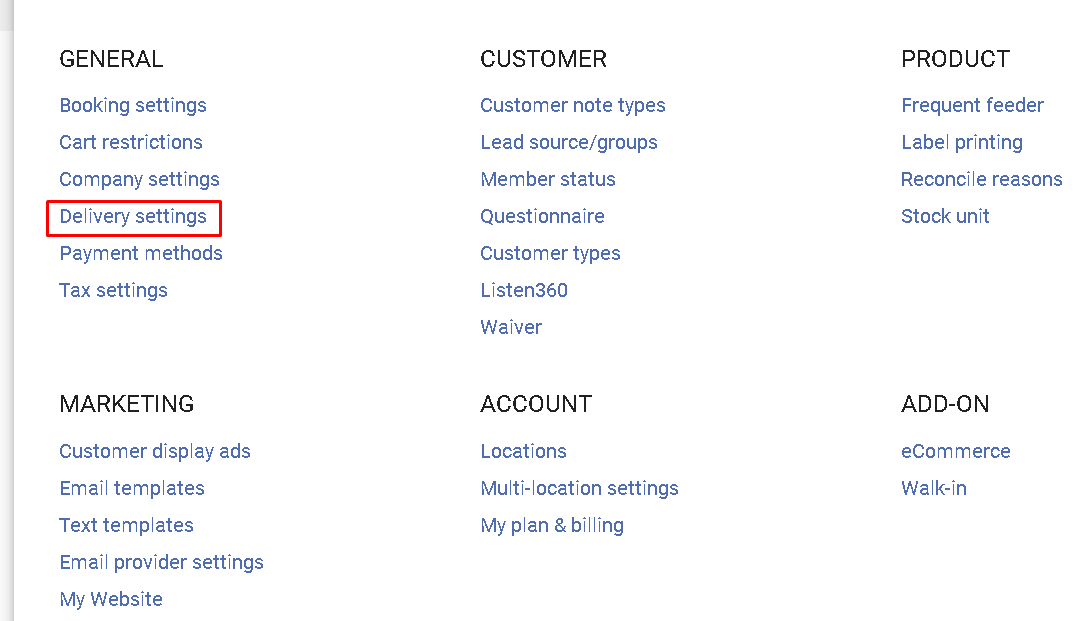 In Delivery, toggle the 'Enable Delivery' option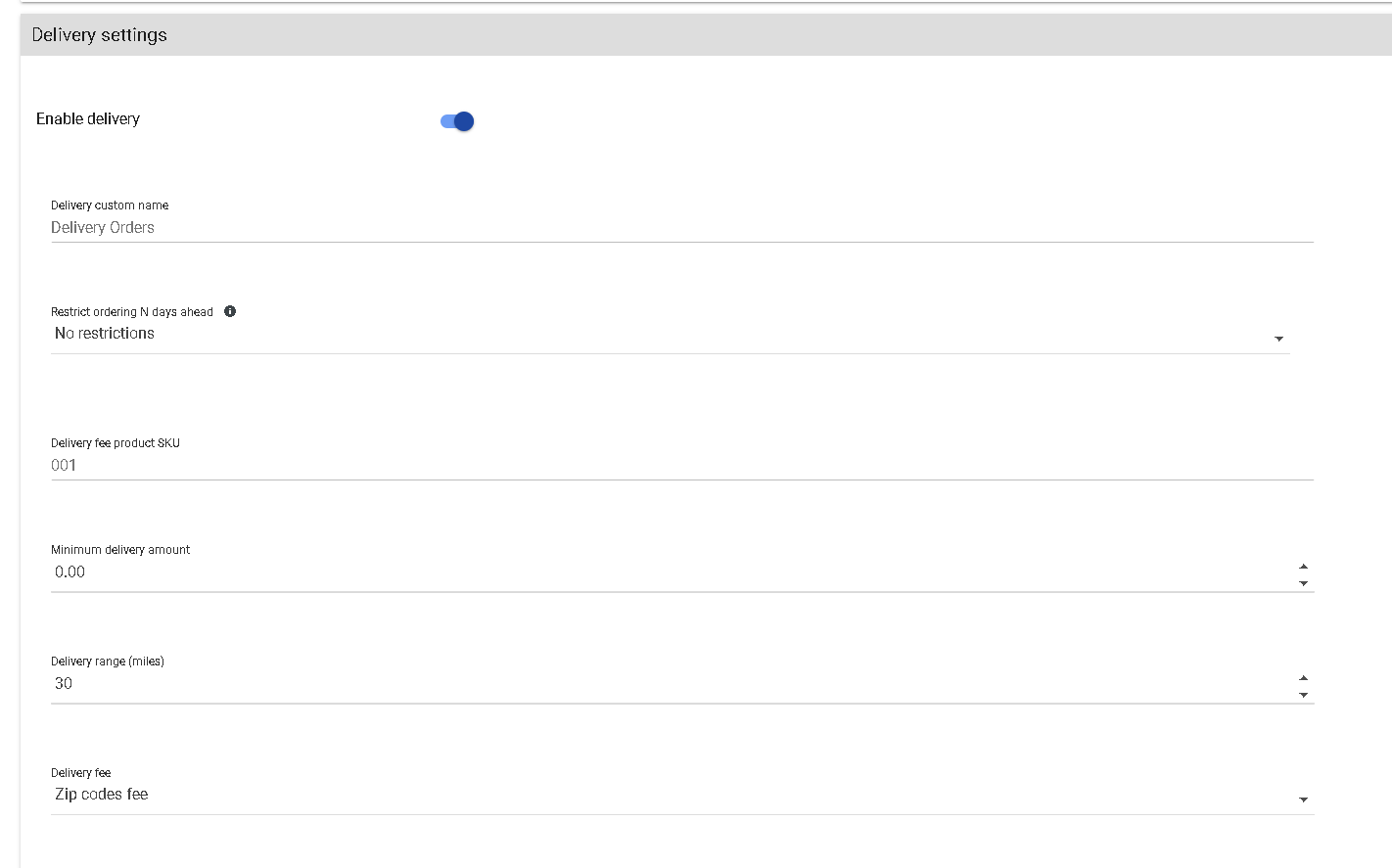 1. Delivery custom name - The name that will be displayed to customers on eCommerce site

2. Restrict ordering 'N' days ahead - Configure how many days out the customer is able to order

3. Delivery fee product SKU - The SKU where the fee for deliveries can be tracked

4. Minimum delivery amount - Minimum amount to order to qualify for delivery
5.
Delivery range
- You can set how far you would like your delivery range to be in miles (i.e. 25 miles)
Note - range will only apply for options a, b, and c below
6. Delivery fee - You can set how much to charge your customer for deliveries based on different criteria

a. Flat - Sets your delivery fee to a flat amount (i.e. $5.00 delivery charge)

b. Radius - Sets your delivery fee based on the distance to your customer (i.e. less than 5 miles free; more than 5 miles $5.00)

c. Order total - Sets your delivery fee on the total amount spent by your customer (i.e. $5.00 dollar delivery fee; free on orders $75.00 and more)

d. Zip codes fee - Fee applied based on zip code

7. Delivery fee settings - Allows to customize delivery charges and dates

a. Zip codes - apply a fee by zip code

b. Price - amount to charge

c. Special price - amount to charge based off Special price trigger

d. Special price trigger - amount of sale where you want the Special price to apply
e. Delivery days/hours - Days of the week where delivery is applicable (can use company hours)
8. Delivery processing time (minutes) - The average amount of time it takes to get your orders ready to deliver
9. Enabled self delivery - Enable this option if you want to deliver your online orders yourself (using your employees)

10. Delivery per driver - Maximum number of orders driver is able to pick up

11. Show ETA - Calculates delivery estimated time of arrival based on Drive Time + Average Preparation Time + Delivery Processing time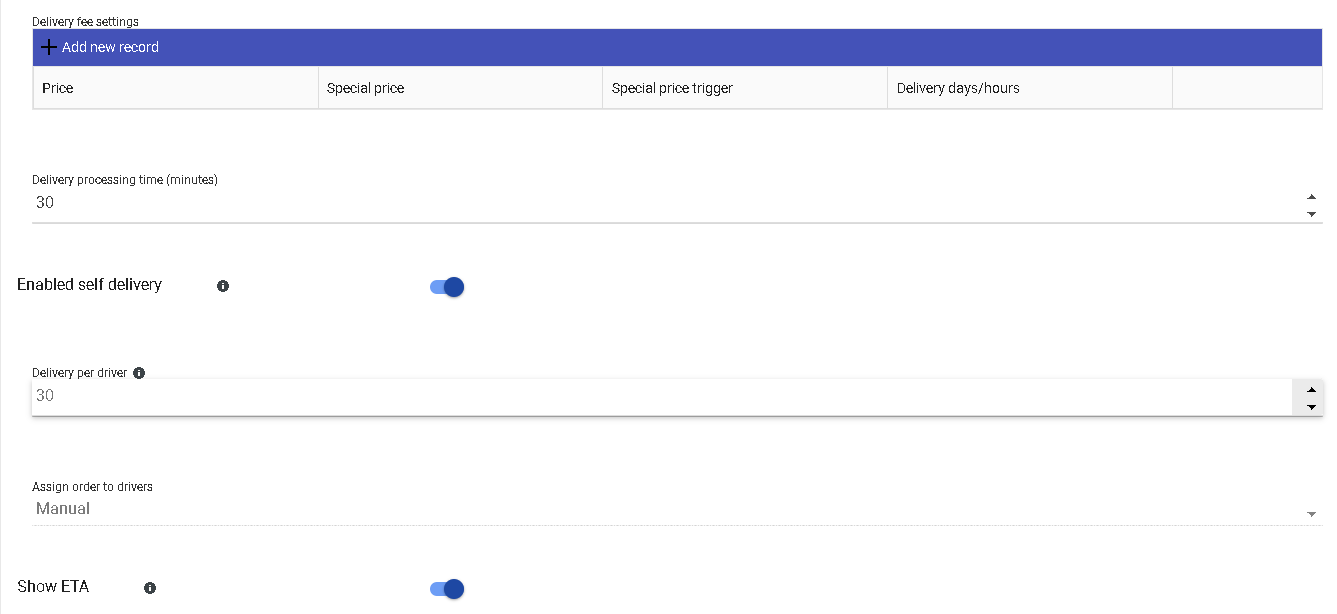 Once you have enabled your store for deliveries, you must assign which employees are allowed to deliver products
Navigate to Employees

Select which employee(s) you would like to make deliveries

Under the employees information enable Receive delivery orders

Remember to save all changes

Once an employee is allowed to receive delivery orders they need to navigate to the Franpos App store and download the Delivery App

When a customer places an online order for delivery, you will be notified with a red notification badge on the Tickets icon

Click on Tickets >> select the order you would like to process

Once you begin processing the order, you can press the PROCESS button

After you have gathered all the products, and they are ready to be delivered. You can select READY TO DELIVER

You will need to select which employee will be assigned the delivery

Select DONE and the employee will receive the delivery on their mobile device in the Delivery App we previously installed

The employee from their device can select PICK UP in the App once they have the products

The customer will be notified that their items are ready for delivery via SMS and email

The employee can select ENROUTE once they are on their way with the delivery

The customer will also receive a notification that their items are on the way via SMS and email

The employee can finally select DELIVER once they have arrived at their destination

The customer will receive a final notification that their items have been delivered via SMS and email