Guide for enabling DHCP on Epson TM-L90 Printers

If your Epson printer was shipped without DHCP enabled, or if a factory reset took place, you may find that the printer can only obtain the IP address of 192.168.192.168. This guide will walk you through accessing the printer's web configuration page to enable DHCP.

Upon factory reset, your device will print out the current network configuration for the printer after it restarts

Remove backing from device by removing the endcap.

Plug the device in.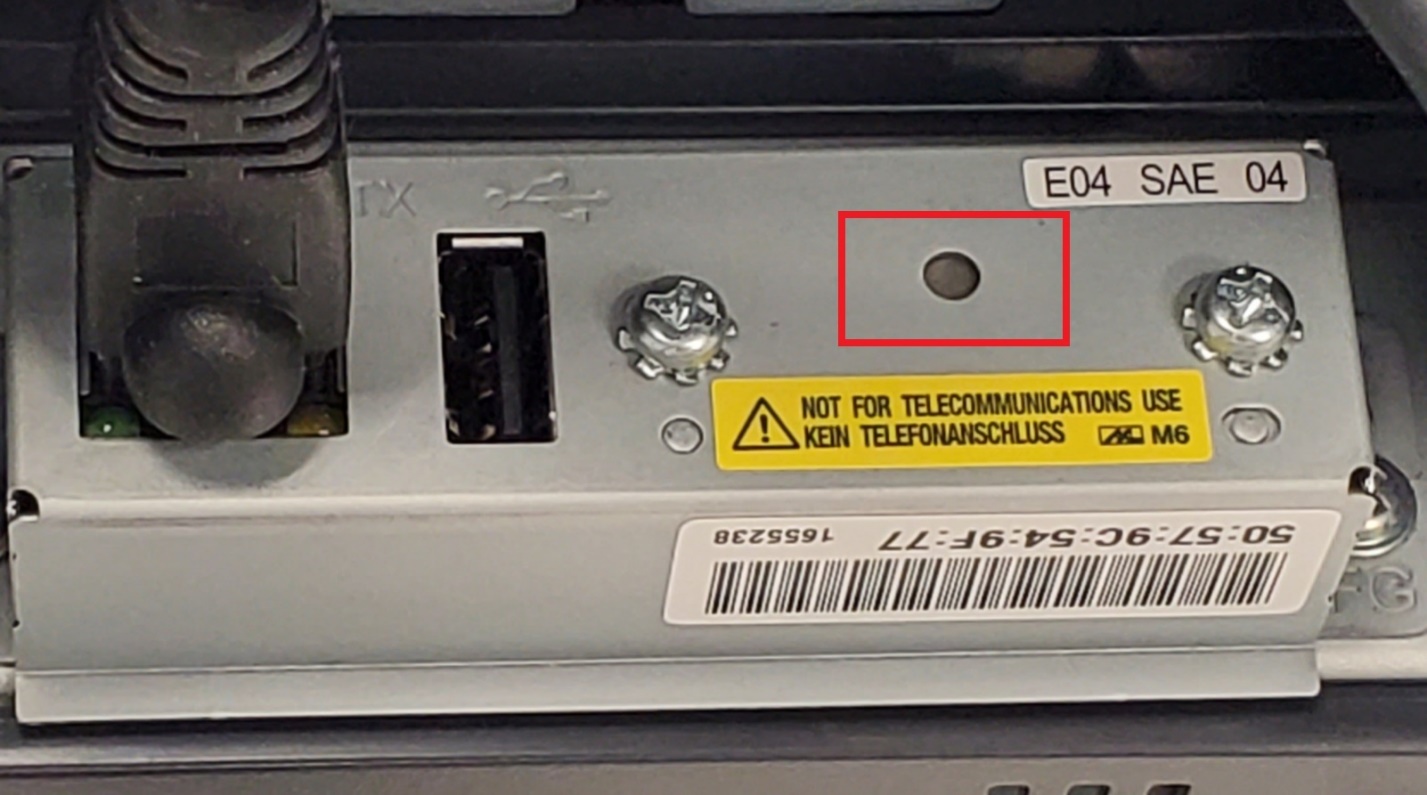 To perform the factory reset, press and hold the recessed button next to the ethernet and USB port for 10 seconds. The device will then reboot and print your network configuration.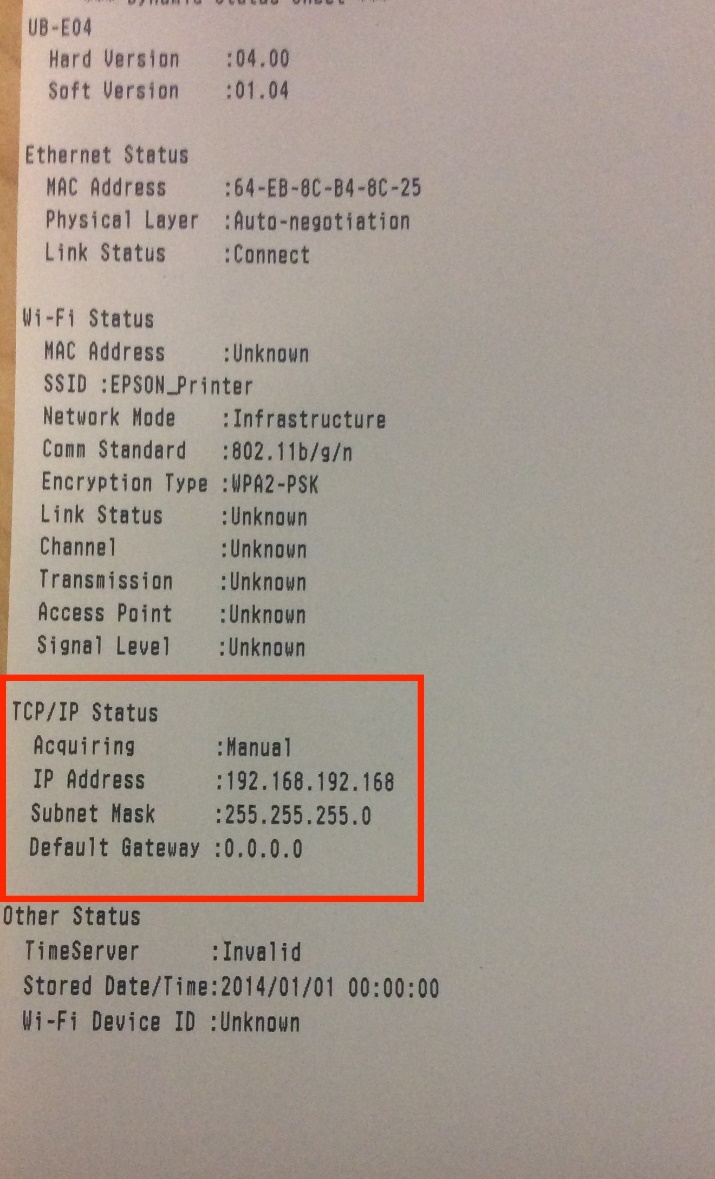 We will later reference this slip later in the guide.

Next you will need to use a RJ-45 (Ethernet cable) to connect to the LAN port on the Epson printer and a windows computer.

During the next step you will lose internet connectivity so make sure that you have loaded this guide, and do not reload the page. Otherwise, you will not be able to reference the rest of this guide.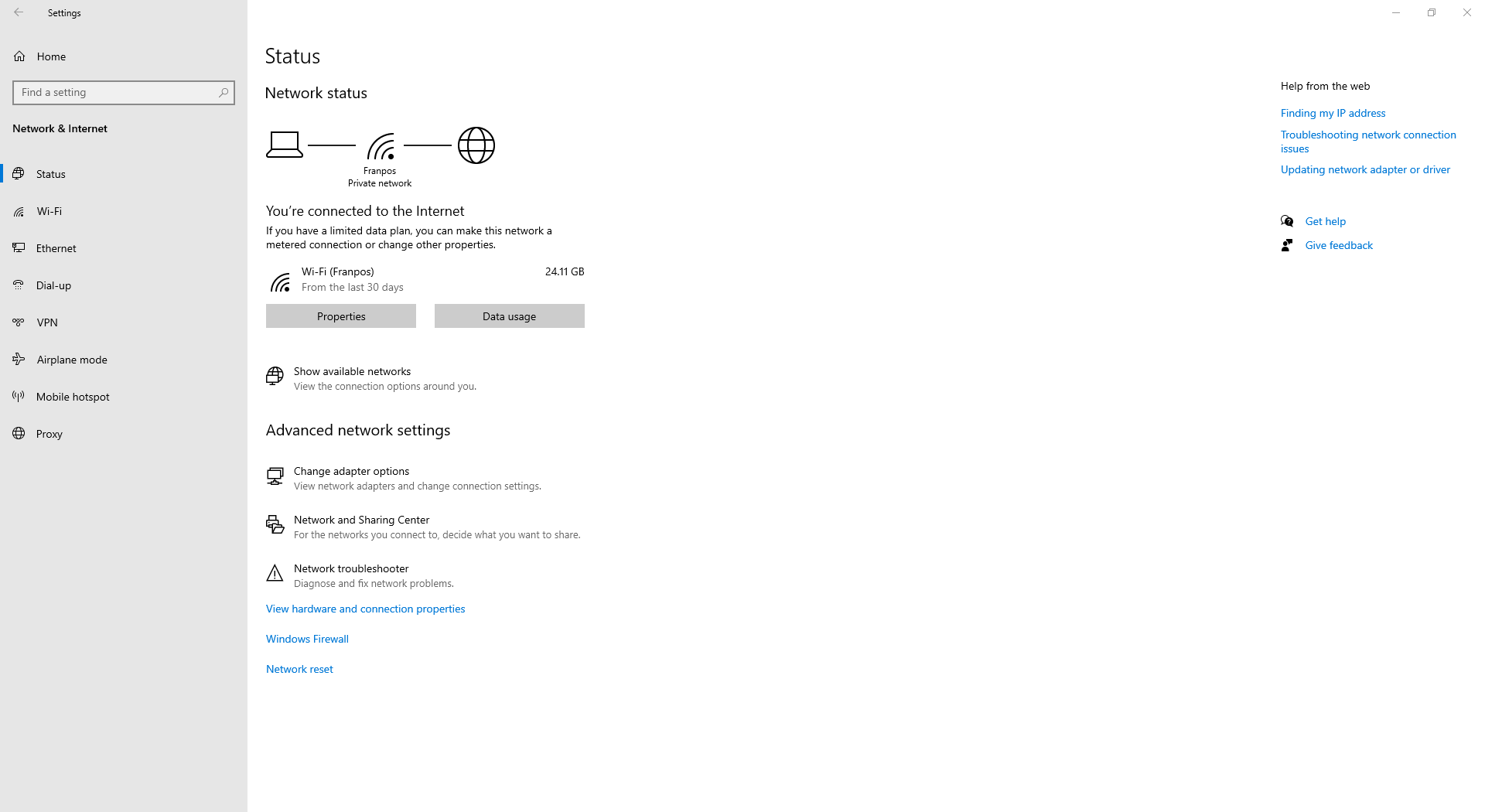 Navigate on your PC to

Settings >> Network and Internet

.




Navigate to the

Ethernet Tab

on the left and click

Ethernet

on the upper center.




Underneath IP Assignment select

Edit




A pop will appear and we will need to change the IP assignment from automatic to manual.



Select manual and change to manual




Set your IP address to 192.168.192.x (x can be any digit between 001 and 192, EXCEPT 168.) In my example I've set our IP to 192.168.192.100




Set your subnet prefix length to 24 (if it wants the subnet in the

x.x.x.x format set this to 255.255.255.0)




Set your Gateway (or router) to the

IP Address

printed on the receipt slip that our printer generated earlier. Typically this will 192.168.192.168.




Set the preferred DNS to 1.1.1.1




Select Save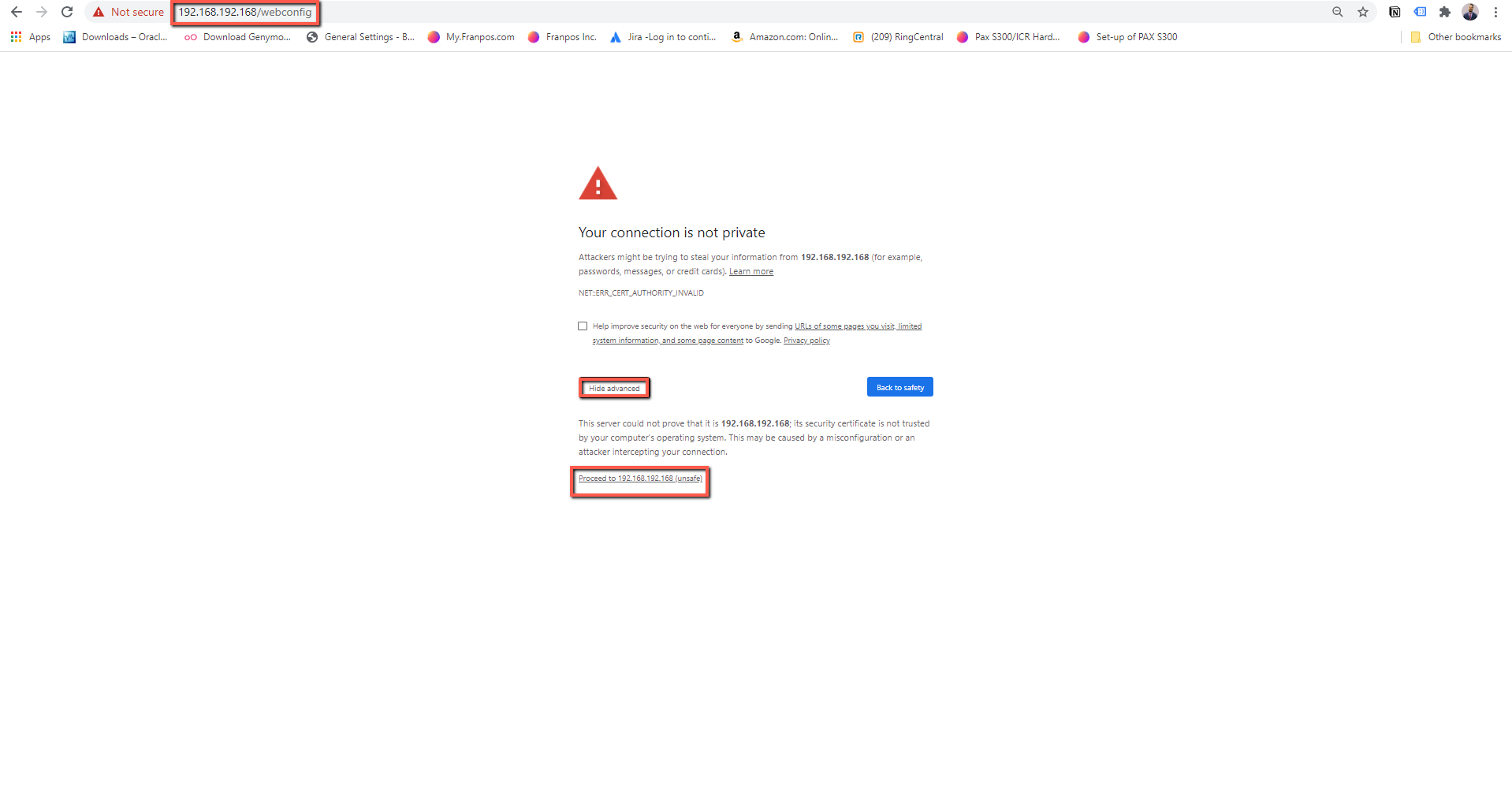 Next, we will open our browser app and enter

HTTP://192.168.192.168/webconfig

.




You will most likely receive a warning stating that the connection is not secure. We can ignore this warning by selecting

Advanced

and clicking the

Proceed

button listed in the image.




You may be able to skip to step number

9, if you immediately are prompted to login and do not receive a

Page Error

. Select

See Help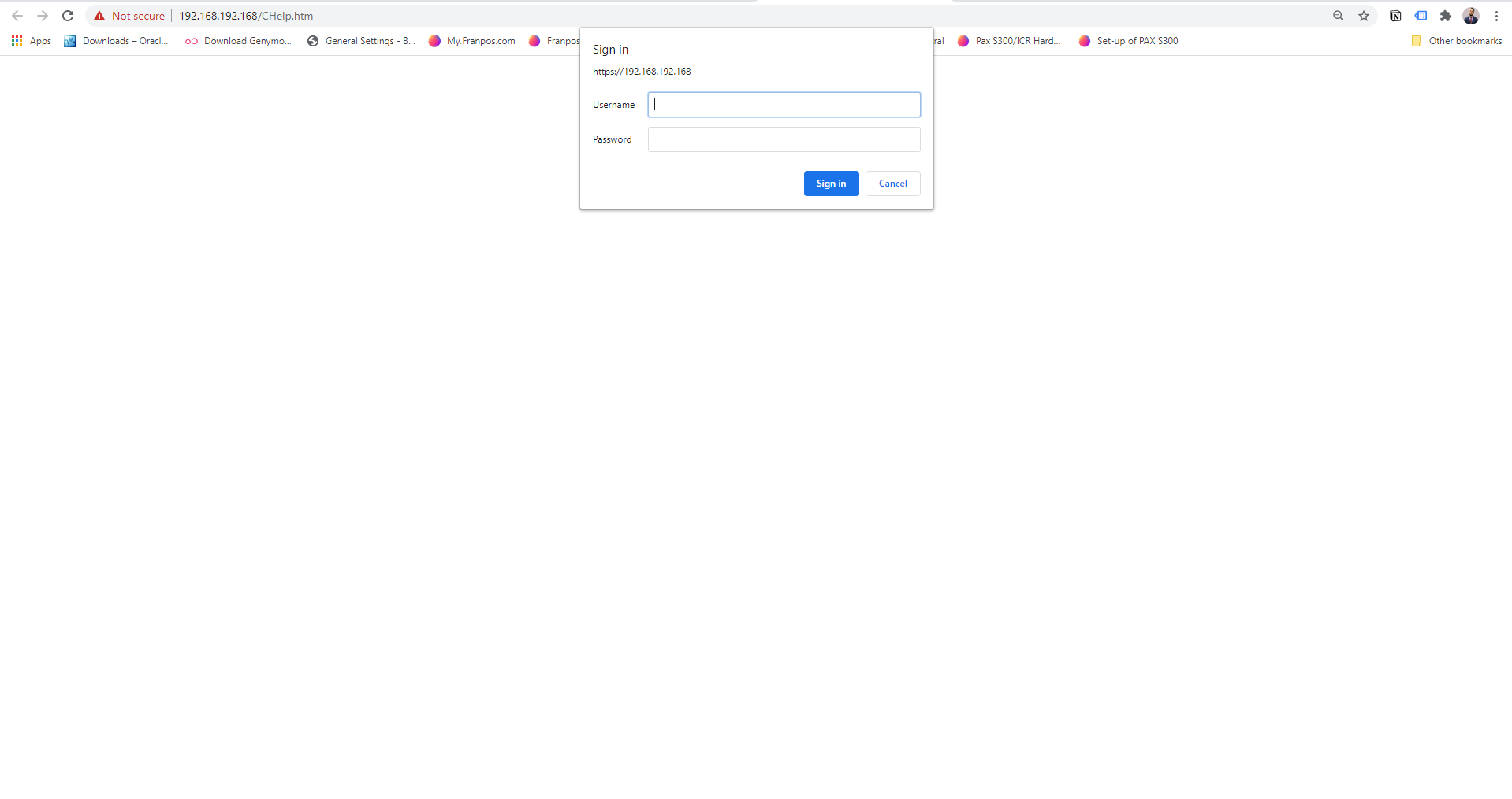 The Default

Username

and

Password

are

epson .

Select Sign in.



Navigate to

Home

.




If you skipped to step

9 please refer to step 7 for the Default

Username

and

Password.



Select

TCP/IP




Switch

Acquiring the IP Address

from

Manual

to

Auto




Select

Send Next, the printer will take some time to acquire the new settings. Once you receive the following error, you can then restart the printer.




You can now disconnect the printer from your computer and plug the device into your network switch. It is very important that this device is connected to the same device as your tablet. If you are using a switch near your register ensure that these devices are both plugged into the same

device via ethernet. If you are plugged into a modem or router, likewise the devices should be plugged into the same device. If you are connecting your register to the network via Wifi, you will need to connect the printer via ethernet into your Wireless access point/router.



Reconnecting your Computer to your Internet Network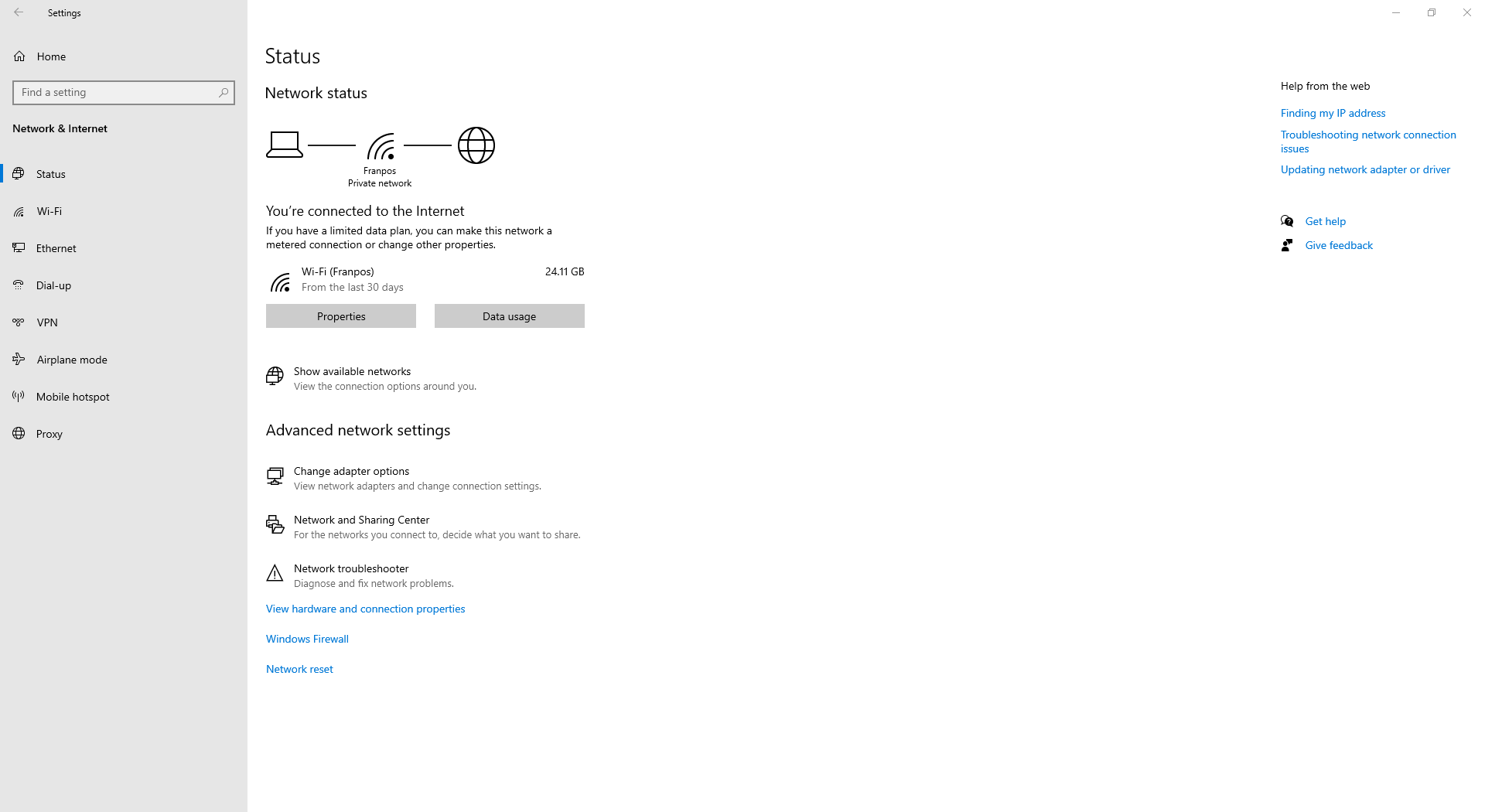 Navigate back to

Settings >> Network.




Select

Ethernet

on the left side and then select

Ethernet

in the upper center




3. Select

Edit.
Select the drop down that says

Manual

and switch it to

Automatic (DHCP)

and select

Save.




Next reconnect the RJ-45 (Ethernet Cable) back to your device that is coming from your router or network switch that is connected to the internet.



Alternatively

you can now proceed with reconnecting your device to Wifi if you typically connect to the internet Wirelessly.