Sign up for Ship Engine at - https://www.shipengine.com/signup/
- Enter in the required fields and select "Create Account" A confirmation email will be sent to your inbox to verify the account. Once confirmed, use the URL to login to your new account - https://dashboard.shipengine.com/
- Once you are logged into the main page, you will see some tips at the top, your sandbox API key, and other tutorials.
- You can click on the top right "Activate Production Environment" to select a subscription plan for the service. Enter in your billing information for the service and the account will be live.

- Acquire your live API key from the "Developer" section on the left sidebar to be entered into Delivery Settings on FranPOS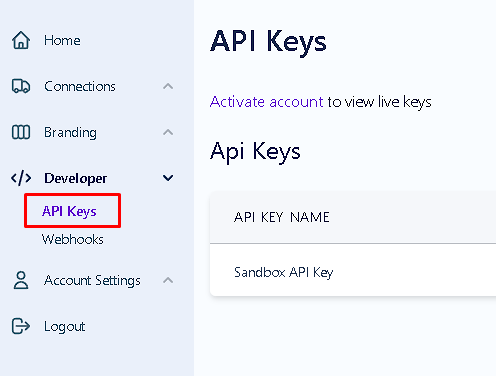 - Delete the default carrier accounts under "Connections" > "Carriers".

- Enter in your new carrier ID provided by UPS, FedEx, or whomever you will be using inside of Ship Engine.

At this point your Ship Engine account will be live. Setup the new API in my.franpos.com

- Enter in your new API key into FranPOS – Settings > Delivery Settings > Enable Shipping (at bottom)
- Select an upcharge amount, if desired, to offload the cost of Ship Engine on to the customer